The Supreme Personality of Godhead, Sri Krishna incarnated Himself as Sri Rama in the month of Chaitra (Mar-Apr), on the ninth day of the growing moon (Chaitra Masa Shukla Paksha Navami Tithi).
The Supreme Lord appeared as the son of Dasharatha, the king of Ayodhya. Dasharatha was a king in the dynasty of Maharaja Ikshvaku (also known as Raghu vamsha). He had three wives: Kaushalya, Kaikeyi and Sumitra, but had no children. On the advice of Maharishi Vashishtha, the king performed Putra Kameshti Yajna and as a result the three wives conceived sons. Kaushalya gave birth to Rama and Kaikeyi gave birth to Bharata. Sumitra gave birth to the twins: Lakshmana and Shatrugna.
The life and activities of Rama are explained in detail by the great sage Valmiki in the book Ramayana. A summarized version of the Ramayana as narrated by Shukadeva Goswami to Parikshit Maharaja is included in the ninth canto of Srimad-Bhagavatam (Bhagavata Purana)
Sri Rama Kalynam being celebrated on occasion of Ram Navami for the 4th Year in Ireland with Grandeur and more Grander than last year on 31st March 2018.
Sri Rama Seva Samithi & Irish Indian Cultural Association invite you to register (free) for the event and enjoy the spectacle of Lord Rama & Mother Sita's wedding in Ireland.​
It is Fully Free Event. Registration is required to plan food arrangements, health & safety / Insurance purposes. Please register here:
https://www.eventbrite.ie/e/sri-rama-navami-celebration-2018-free-event-registration-40834450942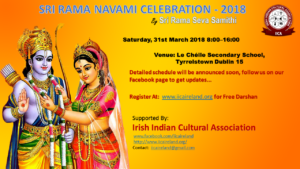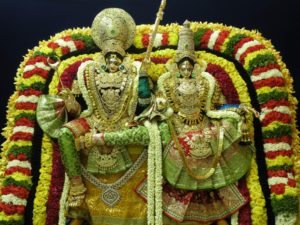 FAQs:
Is there any Ticket for the event?
Yes – you need to register at Eventbrite and it is fully free including food.
Why do we need to register?
Two reasons –
1) To comply with the property insurance policies who ever visiting the place need to be registered.
2) We know how many people are coming for the event , so that we can plan and prepare well to serve you better.
Is Facebook registration ok?
No, we are treating Facebook registration for headcount perspective and it is difficult to know the family sizes and get an advance estimate. Facebook registration not considers for insurance compliance.
I am coming to Kalyanam @ 11:00 do I need to register?
Yes – if you are coming in the morning or in the afternoon you need to register.
Are you going to stop the registrations?
We have a capacity limit of 1000. Once we reach the capacity we shall stop the registrations.
Are we allowed without registration?
Without Eventbrite registration you are not permitted in the hall. Please note that this is hall insurance policy.You need to bring along Eventbrite confirmation mail.
What happens if I Lost Eventbrite confirmation email?
If any case registered mail lost, please email us iicaireland@gmail.com, we will resend the registration confirmation email.
How do I donate if I want?
Currently we are self-funded by our team / patrons for the entire event for the year 2017. Any donations / any offerings to the god , you can contribute in the Harati / as wedding present in the plate that will be given by the Priest or we shall have a Hundi .
How do I help in this Kalyanam?
If you are have some free time in the Saturday morning and enjoy the Lord Srirama wedding fully – you can be part of our volunteer group ( we will call you before the event one day to explain the roles and activities ) and encourage your friends to join as volunteers too..
If you have more questions?
Contact: iicaireland@gmail.com
+353 86 347 9902 / +353 86 806 5382